The old adage of learning from history drives PGPF to spread the message of Energising Peace and Criminalising War ethos within the world of academia as prescribe by the Kuala Lumpur Intitiative to Criminalise War. Humanity must learn from past mistakes where killing is not the solution to conflicts. Numerous wars have been fought resulting in millions of lives lost.
Education about and against war therefore is important to provide a comprehensive understanding about achieving peace, as a pivotal notion to promote peace and campaign actively against war.
"When you go to war and win the war, you have statues erected to honour and to perpetuate and to commemorate, you are given medals and titles. We look up to people who kill people - there is something wrong with our thinking".
Tun Dr Mahathir Mohamad, MGPS4, 15th Sept 2015
Mahathir Global Peace School
The number of manuscripts, curricula and initiatives that grapple with some strand of peace education are increasing. However, dearth of critical and cross – discipline study on peace education in conjunction with war and conflict results in the subject to remain an open question. Education on and against war is important to provide a comprehensive understanding of war and peace as pivotal notions to establish a modern democracy. Based on the spirit to educate society; Universitas Muhammadiyah Yogyakarta (UMY) and Perdana Global Peace Foundation (PGPF) proudly establishes an International School on global peace and conflict resolution with the name Mahathir Global Peace School.
Mahathir Global Peace School 1
1-16June 2013, Universitas Muhammadiyah Yogyakarta (UMY)
The 2 week course themed Global Peace & Conflict Resolution was successfully co-organised by PGPF and Universitas Muhammadiyah Yogyakarta (UMY) in Jogjakarta. The inaugural Mahathir Global Peace School (MGPS) was launched by YABhg Tun Dr. Mahathir Mohamad, PGPF President on 3 June 2013 at UMY.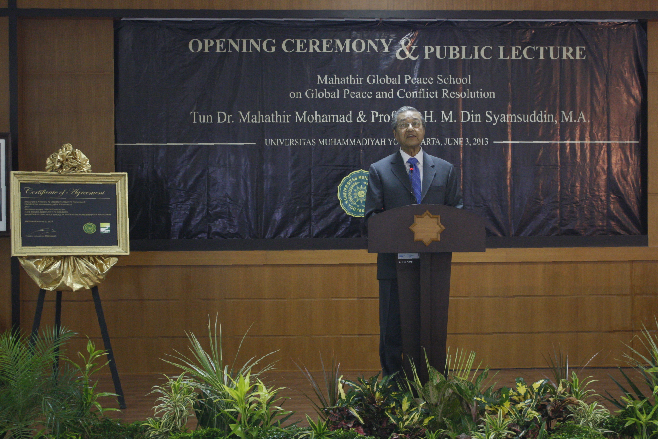 MGPS is designed to enable students from diverse cultures and backgrounds to attain deep understanding of peace and security which are central issues and determinants for the future of humanity. Through coursework participants in the programme will broaden their base of knowledge regarding major concepts, themes and debates within international peace and conflict studies creating a solid platform for engagement with NGOs, governments, aid agencies, the UN and other organisations.
Mahathir Global Peace School 2
17 Feb – 1 Mar 2014, Institute of Diplomacy & Foreign Relations (IDFR)
The second MGPS themed Interstate Relations & Global Justice for Peace and Conflict Resolution was held at the Institute of Diplomacy and Foreign Relations (IDFR), Kuala Lumpur.
The general objectives of MGPS is to extrapolate the facets and strategies of building a peaceful world through education and multi-cultural understanding. The curricula of MGPS are designed to embrace matters on conflict resolution; e.g. peace, war, poverty, racism, social transformation, non-violent initiatives for social change and peace building.
Mahathir Global Peace School 3
1-11 December 2014, International Islamic University Malaysia (IIUM)
The School returned to Jogjakarta for the third edition of MGPS themed Migration, Border & Global Peace.
Participants' composition:
• Each School is limited to about 40 participants
• Students and lecturers from worldwide universities (60%)
• Activists, journalists and researchers (10%)
• NGOs in peace and conflict resolution (30%)
Mahathir Global Peace School 4
7-18 Sept 2015, International Islamic University Malaysia (IIUM)
The fourth edition of MGPS was themed Justice, Prosperity and Peace for Global Citizens where classes were held at IIUM, Gombak.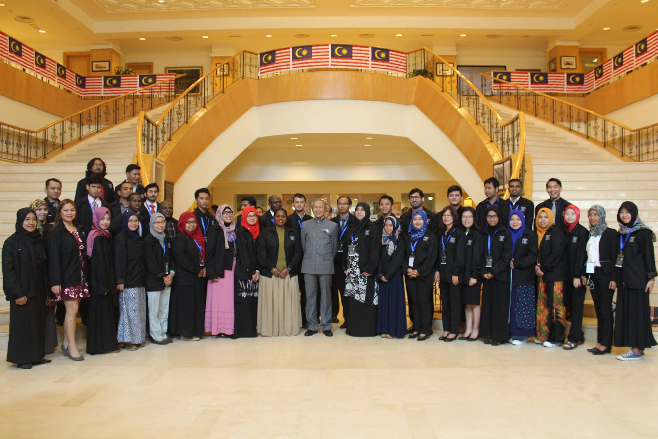 Aim of MGPS:
To provide comprehensive knowledge and focus discussion surrounding global peace and conflict resolution including those concerning its definitional scope and its theoretical and practical relevance in a globalised world.
To explore the theoretical and practical dimensions of global peace and conflict resolution in an international context where the role of the nation-state is being subjected to significant pressures across all regions.
To investigate the political, ethical, legal, and economic implications of global peace and its relationships to cosmopolitanism as an alternative to more traditional notions of nationalism.
To examine the role of international institutions, principally the United Nations in promoting global peace.
To examine a range of specific issue areas – including human rights, the environment, migration, security, humanitarian intervention, and gender through the prism of global peace and associated critiques of global peace.
Mahathir Global Peace School 5
27Nov – 5Dec 2016, Universitas Muhammadiyah Yogyakarta (UMY)
The School's final edition was given the theme Peace & Inter-Religious Dialogue in Worldwide Education and conducted at UMY once again.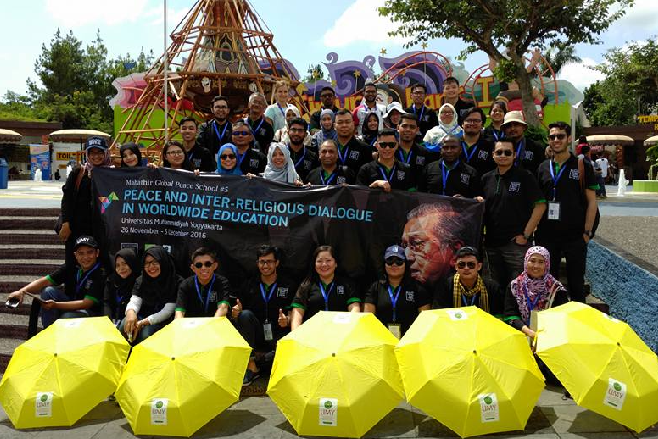 The Learning Outcomes of MGPS are the knowledge and information obtained by the participants from the classes conducted during the training which aims to develop specific soft skills to achieve the objectives of MGPS.
Tun Mahathir PGPF Chair for Global Peace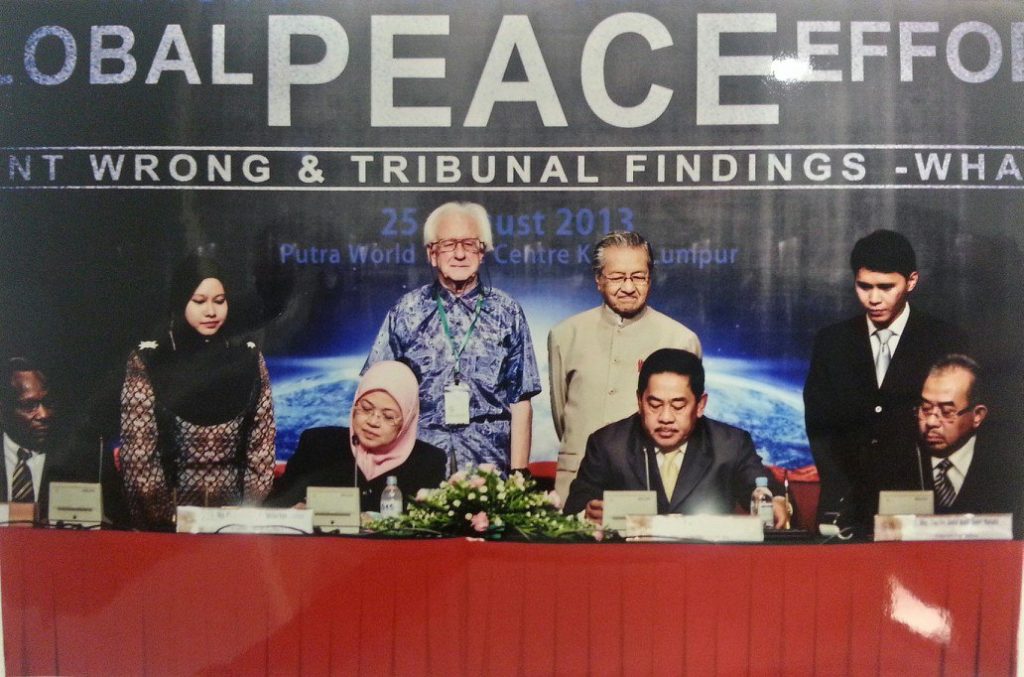 The Chair was established on 25th August 2013. An MOU was signed between Ahmad Ibrahim Kulliyyah of Laws (AIKOL) representing IIUM with PGPF at the International Islamic University Malaysia (IIUM) to create greater awareness, promotion and advocacy of Global Peace including the protection of human rights and criminalisation of war.
The Chair provides a platform for expanding knowledge, practical experience and competencies for scholars and practitioners, involve in peace building and humanitarian assistance. In this regard the establishment of this Chair is a step towards institutionalising the development aspect of our mission.
The Chair focuses on specific research on global peace inclusive of policy and legislative aspects as well as on issues related to war crimes.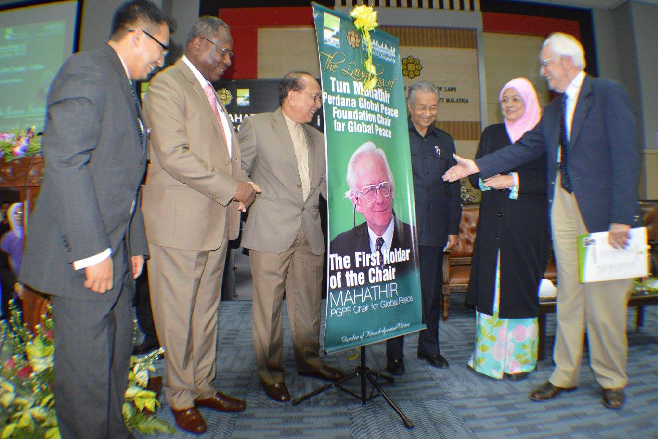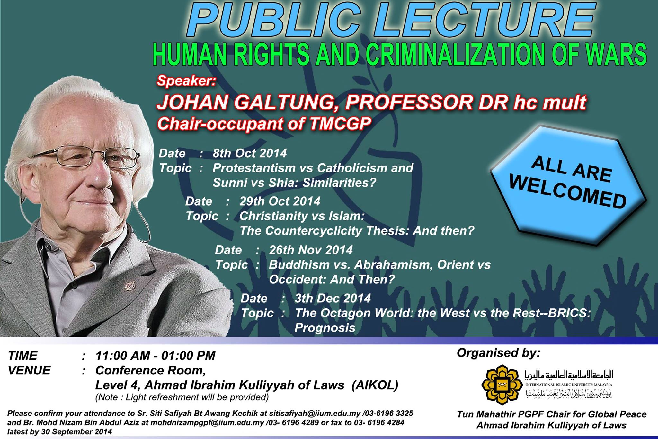 PGPF MajalahSains.Com Essay Competition
15 Oct – 19 Apr 2018
The essay competition is a collaboration between MajalahSains.Com and PGPF. It is align with World Science Day for Peace and Development endorsed by UNESCO. The competition themed Criminalise War and Science for Peace received hundreds of entries for both categories since the competition started in October 2018. The former category is open to all Malaysians and University students while entries for the latter was limited to school students. Scoring criteria and decision were set by panel of judges after vetting by PGPF.
PGPF records its utmost appreciation to YABhg Tun Dr Siti Hasmah, PGPF Honorary Advisor for gracing the competition as patron and for presenting the winners with prizes at a ceremony held at the Planetarium Negara.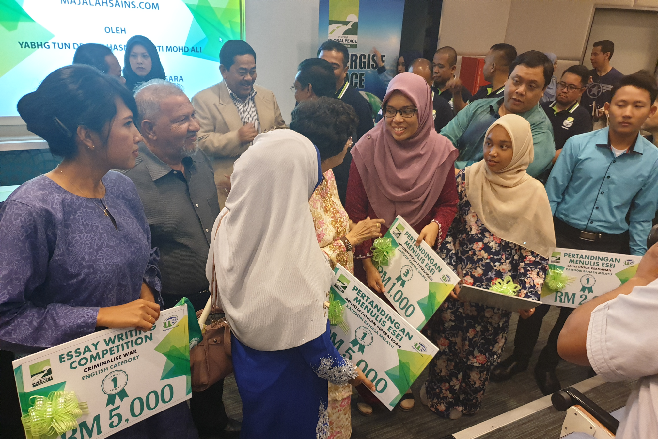 PGPF Outreach Programme - Remembering Al Nakba
Sekolah Menengah Kebangsaan (Agama) Sultan Muhammad, MELAKA 
24 May 2014
The outreach programme focused on the theme the Palestinian Al Nakba which means The Catastrophe in Arabic. Dr Zulaiha Ismail articulated the theme to the students where the Nakba is remembered as the day Palestinians had their land stolen as Israel was formed on 15 May 1948.
Muhammad Radzilah, PGPF Club Sec-Gen later shared his experience being on board the Spirit of Rachel Corrie. A traditional dance called the Dabka was later performed by Palestinian volunteers.
Attendees were entertained by energetic performances from students of KAMIL and PGPF volunteers.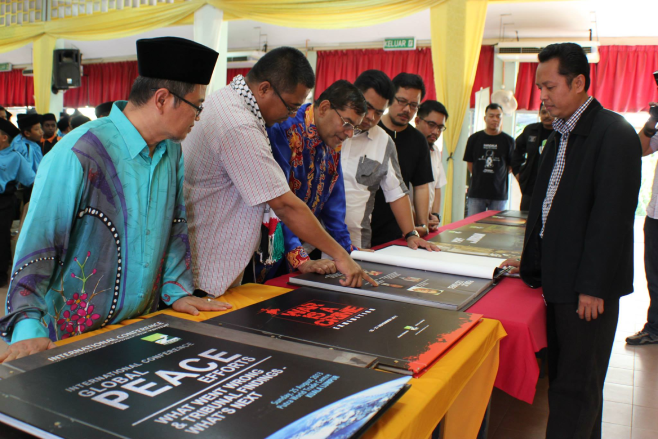 Sekolah Sultan Alam Shah, PUTRAJAYA
20 June 2014
For this programme PGPF co-organised the event with the Kuala Lumpur Foundation to Criminalise War (KLFCW).
YABhg Tun Dr Siti Hasmah, PGPF Honorary Advisor gave a keynote address followed by some words from YB Datuk Mary Yap Kain Ching, Deputy Minister of Education.
The Criminalise War Club Sekolah Sultan Alam Shah Chapter was later launched.
Sekolah Menengah Kebangsaan Kamil, KELANTAN
24 June 2014
The outreach programme continued north of the Peninsula to Pasir Puteh, Kelantan. The event was officiated by YBhg Dato' Pahamin A Rajab, PGPF Trustee who is also the School's patron.
Attendees were entertained by energetic cultural performances from students of KAMIL and PGPF volunteers.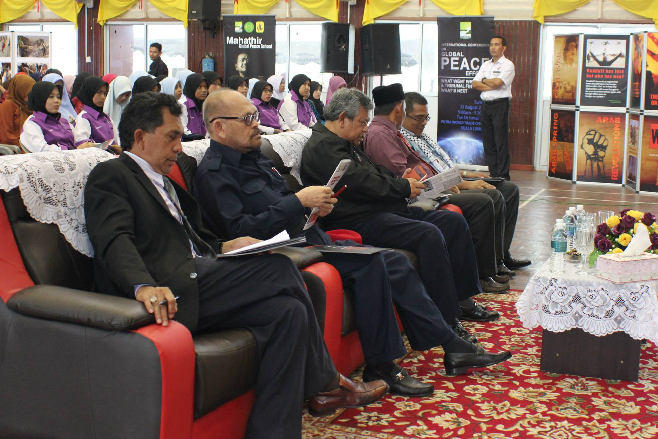 Kolej Universiti Islam Perlis, PERLIS
26 June 2014
HRH Tuanku Syed Faizuddin Putra Ibni Tuanku Syed Sirajuddin Jamalullail graced the programme held in Perlis. Similar to the previous programmes, present were YBhg Tan Sri Norian Mai, PGPF Chairman and YBhg Tan Sri Samsudin Hitam, PGPF Trustee.
HRH Tuanku Syed Faizuddin officially launches the PGPF Club Perlis Chapter with Dr Mohd Mizan Mohd Aslam as the Director of the Club's Perlis Chapter.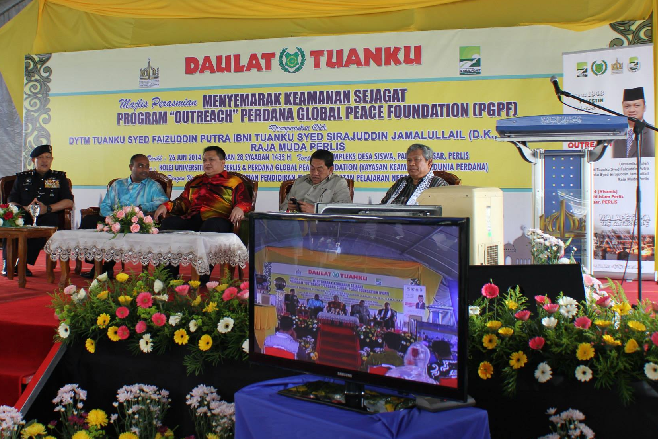 Kolej Sultan Abdul Hamid, KEDAH
28 June 2014
The final leg of the outreach programme was held in Kedah at Kolej Sultan Abdul Hamid where primary education began for Tun Dr Mahathir. The students were introduced to the topic of al-Nakba by Gen Tan Sri Mohd Azumi Mohamed, PGPF Trustee.