PGPF have organised and participated in Freedom Flotillas and Aid Convoys internationally over the years.
Spirit of Rachel Corrie Mission (2011)
The determination to break the Seige of Gaza saw PGPF sending The Spirit of Rachel Corrie aka MV FINCH to Gaza filled with medical aid and sewerage pipes. The ship was  shot at and nearly hijacked by Israeli navy on Palestinian waters.
The ship was taken to Port El-Arish, Egypt and the passengers were escorted by the Egyptian army to the Rafah border on land.  It took almost 2years with UN support for the supplies and sewage pipes to be taken into Gaza.
The video (published by NST Online) shows the moment Israeli forces opened fire at MV FINCH on Palestinian waters.
Breaking The Siege (2010)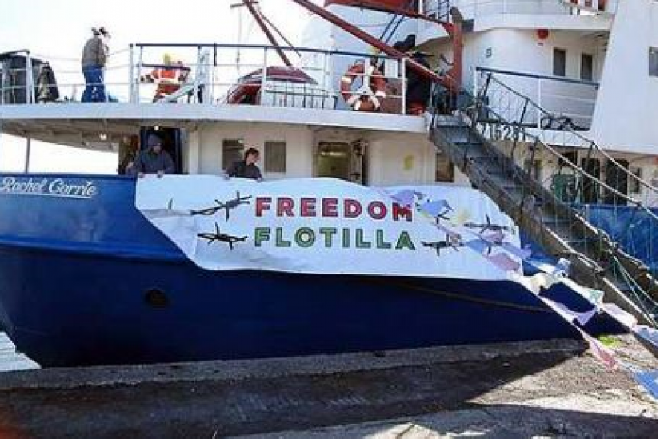 Tun Mahathir mooted the idea of a flotilla after a discussion with other international activists in Cyprus. PGPF sponsored 3 ships The Rachel Corrie, Challenger i and Challenger ii as part of the Freedom Flotilla to Gaza.
Carrying aid supplies, the ships together with other international NGO ships attempted to Break the Siege on Gaza. One of them was the Mavi Marmara which was attacked by Israeli forces and resulted in the murder of 10 unarmed activists. All the ships and passengers on board were forced to land and taken custody in Ashdod.
London to Gaza Aid Convoy (2009)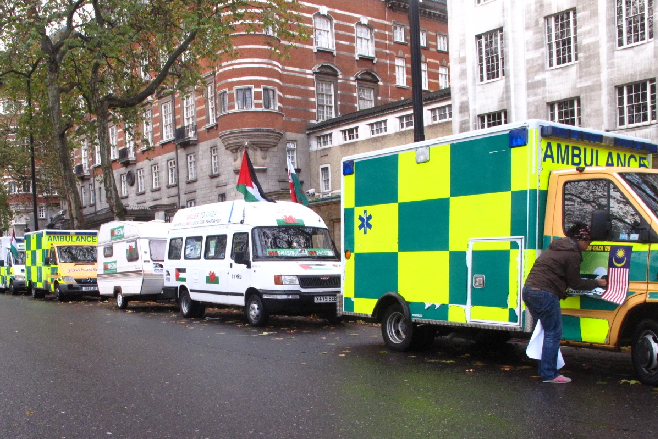 Two volunteers drove an ambulance loaded with medical supplies from London to Gaza sponsored by Perdana Global Peace Organisation (PGPO)* in collaboration with Viva Palestina UK. Tun Dr. Mahathir Mohamad chaired PGPO and raised funds for the programme.
The 110 vehicle convoy delivering over £1 million worth of aid drove a 5,000-mile route passing through France, Spain, Morocco, Algeria, Tunisia, Libya and Egypt.
*PGPF was formerly known as Perdana Global Peace Organisation (PGPO). Registered as PGPF in October 2010 with SSM.