PGPF exhibitions started from its predecessor the Perdana Global Peace Organisation (PGPO). From large scale independently organised exhibitions to side exhibitions complementing main events such as international conferences.
The exhibitions mainly highlights realities of inhuman acts of war ensuing from illegal and criminal activities which transgress international laws and conventions.
Expose War Crimes, Criminalise  War Exhibition
2007 – Putra World Trade Centre
The exhibition was organised in conjunction with an international conference held with the same title.  The conference was the third one since the 2005 Perdana Global Peace Forum "Peace Dividends; War Profits" which witnessed the declaration of the Kuala Lumpur Initiative to Criminalise War.
The exhibition included full scale recreations of war scenes and torture prisons based on witness accounts, documents and photographs.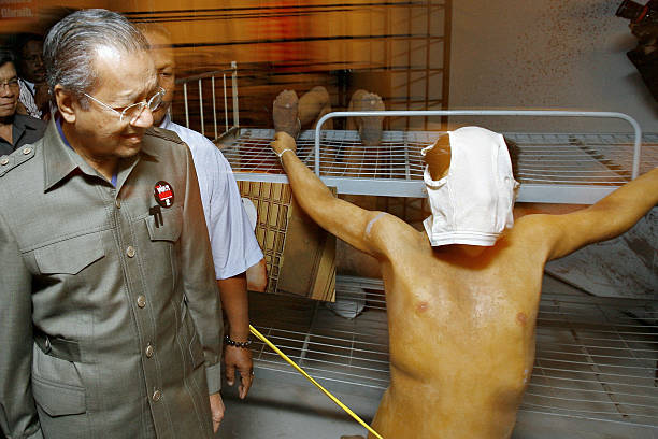 International Torture Exhibition
2009 – Putra World Trade Centre
It was held simultaneously with the Criminalise War International Conference which hosted the Kuala Lumpur War Crimes Commission Hearings and the Kuala Lumpur War Crimes Tribunal Hearings.
The Exhibtion focused on the war crimes in Iraq where detainees of war were subjected to various forms of water torture, electric shock torture and many other forms of illegal, inhumane and degrading torture. Other displays were scenes recreated from Abu Ghraib Prison, Haditha Massacre, Torture Chamber and Equipment.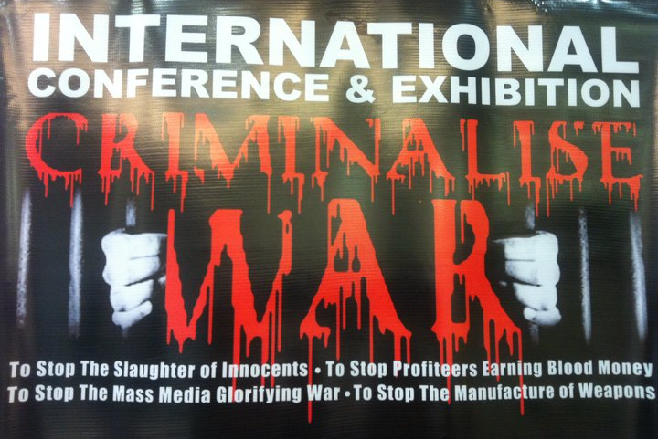 War Is A Crime Exhibition
2011 – Al Bukhary Foundation Building
The exhibition commenced at the same time with PGPF's The Arab Uprising Conference which was held at the Islamic Arts Museum Malaysia. The following day, PGPF and Kuala Lumpur Foundation to Criminalise War (KLFCW) started the Kuala Lumpur War Crimes Tribunal Hearings for war crimes committed during the invasion of Iraq in 2003 by George W. Bush, former US President and Anthony L. Blair, former British Prime Minister who led their administrations to murder more than 1 million Iraqis.
The exhibition was later showcased throughout PGPF roadshow Jelajah Keamanan in the states of Melaka, Perak and Putrajaya.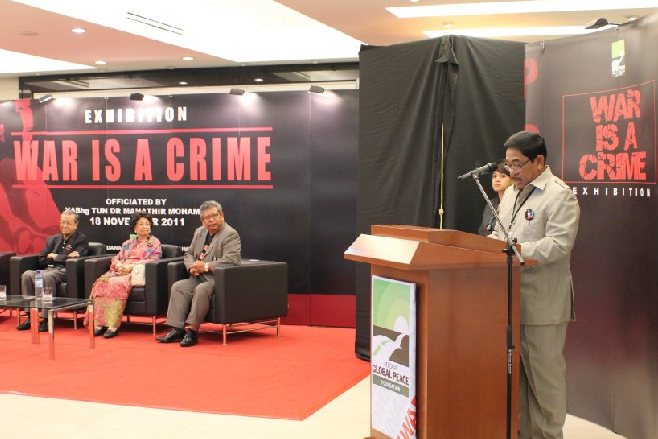 WARNING!
Graphic Content of the exhibition serves as a reminder of the gruesome, inhumane and illegal consequences of war.
2013 – Annexe Galery Central Market
An awareness programme for Palestine in the form of an exhibition was organised at the Central Market, in the heart of Kuala Lumpur's center for artwork and handicraft. Highlighted was Handala, a cartoon figure symbolising the Palestinians' right of return since their forced exodus on 15 May 1948. Handala is one of the main characters in over 40,000 cartoons created by the late political cartoonist Mr Naji al Ali.
Dr Zulaiha Ismail, PGPF Trustee moderated a dialogue between a Palestinian Embassy representative to Malaysia, Palestinian Cultural Organisation Chairman and a former PGPO activist. Award winning documentaries and movies such as Tears of Gaza and the 5 Broken Cameras were also scheduled for screening.