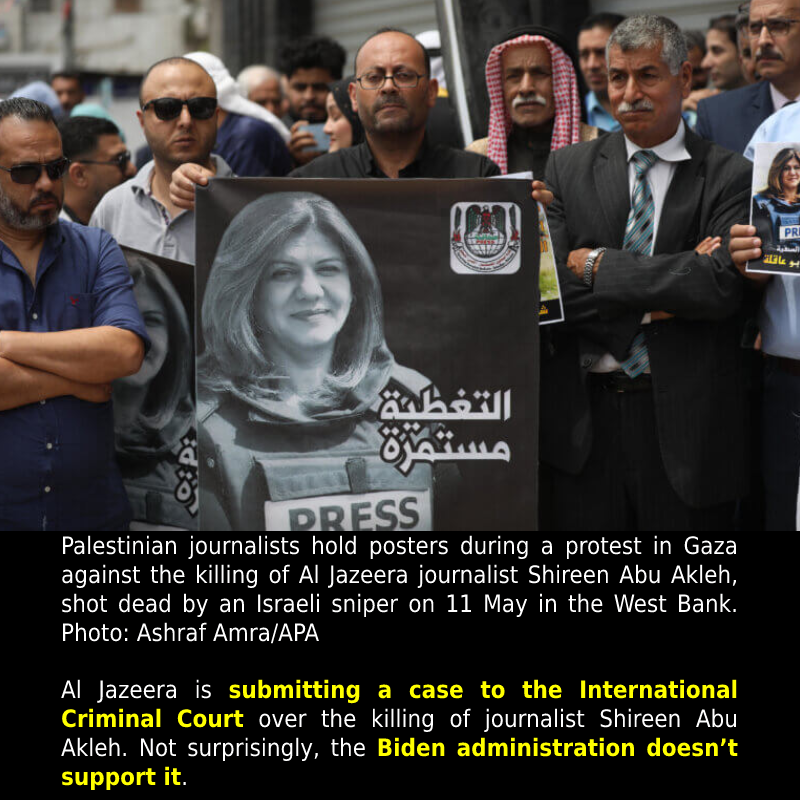 Al Jazeera is submitting a case to the International Criminal Court (ICC) over the killing of journalist Shireen Abu Akleh. The request includes a dossier on the network's six-month investigation into the death of their reporter along with new material.
Lina Abu Akleh, the niece of Shireen, made a public statement about the move during a press conference at The Hague. "It is clear that Israel has a history and a de facto state policy of targeting Palestinians journalists like my aunt in order to silence their reporting on Israel's human rights violations against Palestinians," she told reporters. "Israeli soldiers are almost never held responsible for their war crimes, which creates a culture of impunity that allows these atrocities to continue. But enough is enough. We must end impunity for Israeli war crimes. It's past time for justice for Shireen and for every Palestinian that's been killed by the Israeli army."
"We expect the prosecutor to work quickly to pursue the truth and justice, and we expect the court to deliver with accountability for the individuals and institutions responsible for this crime," she continued. "The evidence is overwhelmingly clear. It's time for the ICC to take action. Wouldn't you expect the same if your aunt, sister, or best friend was killed?"
Israel has predictably criticized the move and have refused to cooperate with the probe. "No one will investigate IDF soldiers and no one will preach to us about morals in warfare, certainly not Al Jazeera," said outgoing Prime Minister Yair Lapid.
The Biden administration also opposes the investigation. "When it comes to the ICC, we maintain our longstanding objections to the ICC's investigation into the Palestinian situation and the – and the position the ICC should focus on its core mission, and that core mission of serving as a court of last resort in punishing and deterring atrocity crimes," State Department spokesman Ned Price told reporters this week.
When the ICC announced that it was launching a war crimes probe into Israel's actions in occupied Palestine last year, the Biden administration also criticized the move. "The ICC has no jurisdiction over this matter," said Secretary of State Tony Blinken at the time. "Israel is not a party to the ICC and has not consented to the Court's jurisdiction, and we have serious concerns about the ICC's attempts to exercise its jurisdiction over Israeli personnel."
"The Palestinians do not qualify as a sovereign state and therefore, are not qualified to obtain membership as a state in, participate as a state in, or delegate jurisdiction to the ICC," he continued.
Biden administration reaction to killing
The Biden administration has consistently called for accountability and transparency in the case of Abu Akleh, but their public positions on the matter has quietly shifted. Shortly after she was killed Price told reporters that "those responsible for Shireen's killing should be prosecuted to the fullest extent of the law."
However, the State Department also consistently implied that Israel was capable of investigating Abu Akleh's death on its own. This claim seemingly contradicted the country's early indications that it had would not look to press any criminal charges. Members of Abu Akleh's family, and activists across the globe, insisted that an independent investigation was needed because the Israeli probe could not be taken seriously.
At some points the administration's messaging was contradictory. When Blinken was confronted by journalist Abby Martin about the issue at a Los Angeles for a Summit of the Americas event earlier this year he told her, "We are looking for an independent, credible investigation. When that investigation happens, we will follow the facts, wherever they lead. It's as straightforward as that." However, during State Department briefings Price continued to imply that Israel could carry out its own probe.
In September Israel's military released the results of its investigation to widespread outrage. The IDF admitted there was a "high possibility" that one of its soldiers killed Abu Akleh, but pointed out that it was accident. It also officially announced that it would not press any charges against the soldier. A senior IDF official who briefed journalists before the report's release suggested that Abu Akleh had died amid dueling gunfire, a lie that has been disproven by video and eyewitness accounts.
The State Department issued a statement welcoming the Israeli report and accepting its conclusions at face value. It once again urged "accountability" and called for Israel "to closely review its policies and practices on rules of engagement," a suggestion that Israeli government openly rejected.
Amid pressure from Abu Akleh's family and Palestine activists, the FBI finally launched an investigation into the killing last month. Axios' Barak Ravid reported that The White House and State Department were unaware of the probe, or at least have expressed as much to Israeli officials.
Israel's government greeted that news in the same way it reacted to the ICC probe. "Our soldiers will not be investigated by the FBI or by any other foreign country or entity, however friendly it may be. We will not abandon our soldiers to foreign investigations," said Lapid.