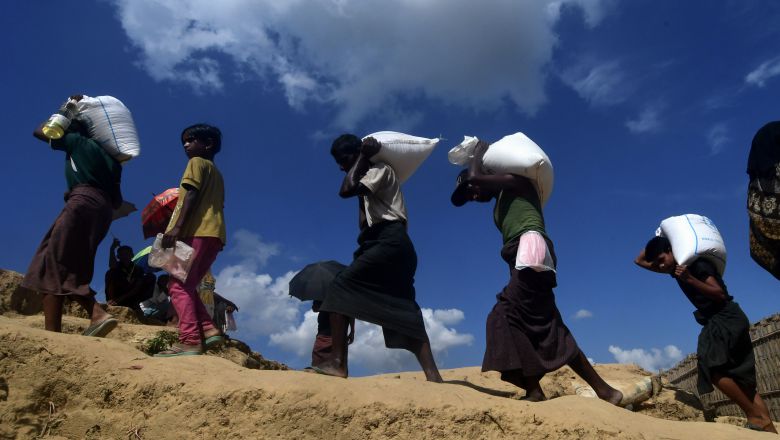 Cambodia was among just 10 countries to vote against a "contentious" United Nations draft resolution on the persecution of Rohingya in Myanmar on Thursday.
In all, 135 countries voted in favour of the draft resolution, while only Cambodia, Vietnam, Laos, Philippines, Belarus, Myanmar, China, Russia, Syria and Zimbabwe voted against it.
The draft calls on the Myanmar government to protect the rights of Rohingya, a Muslim ethnic group. More than half a million have poured over the border into Bangladesh since August 25, fleeing what they describe as coordinated assaults on Rohingya villages.
Prime Minister Hun Sen has gone back and forth on the Myanmar refugee crisis.
He has addressed the issue publicly several times, seemingly taking varying sides on the issue. In February, he said Cambodia disagreed with attempts to "internationalise" the conflict, and considered it to be an internal matter of Myanmar, citing the Association of Southeast Nations principle of "noninterference".
In a speech in October, however, he acknowledged a real problem in Myanmar and described the situation as a "humanitarian crisis of refugees".
While speaking to garment workers on Thursday, Hun Sen said he had advised Foreign Minister Prak Sokhonn to vote against the resolution on behalf of the Kingdom.
"For us, the principle of no interference is a very big thing," he said. "Therefore, Cambodia decided to vote against the decision of interference in Myanmar's sovereignty."
However, he added Cambodia would cooperate in providing humanitarian support without intervening in the internal matter.
Phil Robertson, deputy director of Human Rights Watch's Asia Division, said the way Cambodia voted wasn't surprising.
"We fully expected this 'no' vote because as a steadfast believer of the ASEAN non-interference rule and a serial human rights violator, Cambodia expects to get the same sympathetic protection from other Southeast Asian governments if it ever faces a hostile resolution in the UN General Assembly in the future," he wrote in an email. "And the way things are going now, such a resolution against Cambodia is hardly out of the question."
An independent legal and human rights expert Billy Chia-Lung Tai said the vote was in line with expectations.
"There is an informal 'ASEAN alliance' on human rights issues where the member states avoid criticising each other on their human rights issues," he wrote in an email.