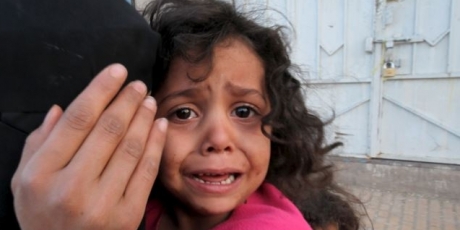 Update: 25 February 2016
WooHoo! Victory! After over 740,000 of us signed the petition and targeted MEPs with phone calls and personal messages, they listened! The European Parliament just voted for an embargo on arms sales to Saudi Arabia. This is an unprecedented statement by European politicians and makes clear weapons should not be sold to Saudi Arabia while the UN claims it may be committing war crimes. Now we need to make sure European states take heed. Let's keep campaigning until this deadly trade is ended.
Update: 16 February 2016
Great news! The European Parliament just agreed that they will vote on the Saudi arms embargo on 25th February. Let's keep up the pressure until then, to ensure it passes!
They bomb schools, hospitals, even wedding parties. What Saudi Arabia is doing in Yemen is disgusting — and they're doing it with weapons they buy from Europe, the US, and Canada. But in 24 hours we can do the unthinkable — win a landmark decision that could stem the flow of weapons to the Saudis.
The European Parliament is hours away from having a proposed EU-wide arms embargo put to a vote — but under heavy Saudi lobbying, some politicians are wavering.
Now more than ever, these leaders need to see that people from every corner of the Earth are looking to them to stand up and say "NO" to Saudi Arabia and their atrocities. Sign the urgent petition calling for an arms embargo — let's show the EU champions overwhelming public support.