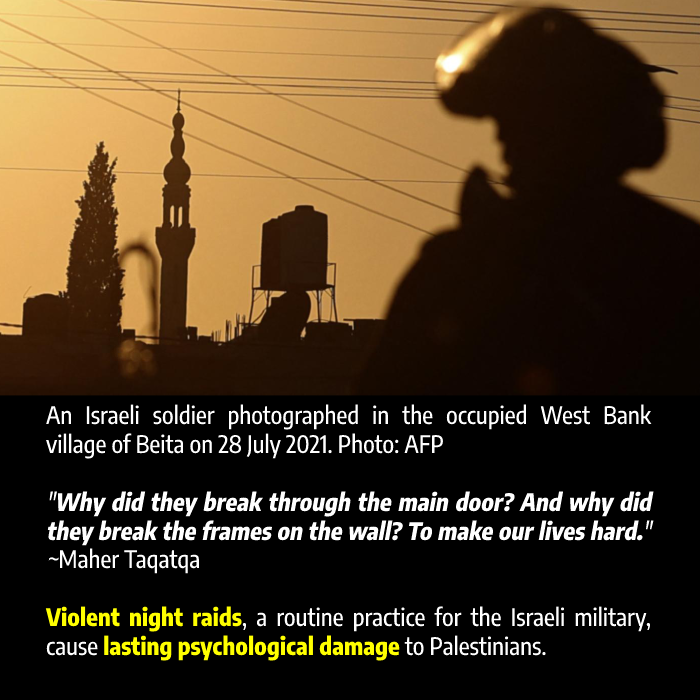 It was a cold and rainy January night in the Palestinian town of Beit Fajjar, near Bethlehem, when Hisham Taqatqa woke up to heavy knocking at 3 am.
Before the 15-year-old could alert his sleeping parents, Israeli soldiers blew the door open and broke into the house.
The scene is all too familiar to Palestinians in the occupied West Bank, where night raids have long become a daily reality. 
Heavily armed Israeli soldiers storm Palestinian homes in the middle of the night, vandalising their space, terrorising and assaulting residents, and subjecting them to interrogations, strip searches and detention.
That night in 2022, Israeli forces confined the seven members of the Taqatqa family to one room, then proceeded to conduct a thorough search. They smashed closets and broke furniture and household items as they spread out across the house.
"Who is Hisham?" one of the soldiers yelled. The boy raised his hand. 
"When the soldiers made sure it was him, they gathered around him and tied his hands behind his back while his mother and I were screaming, asking them to let him go, but they completely ignored us," Taqatqa's father, Maher, told Middle East Eye.
"Then one of them pushed me back and another shouted at my wife when she tried to get a jacket for her son."
The soldiers left the house, taking Hisham Taqatqa with them, in his pajamas, handcuffed and blindfolded, without allowing him to change or say goodbye to his family.
"Around 20 soldiers raided our house that night just to arrest my 15-year-old son," Maher Taqatqa said.
"They wanted to arrest him, but why did they break through the main door? And why did they break the frames on the wall? It's all just to make our lives hard."
In cold blood
On 12 January, Samir Aslan, 41, heard a noise outside his house in the Qalandia refugee camp, north of Jerusalem.
Aslan woke his wife and told her it might be Israeli soldiers. No sooner had he finished his sentence than they heard loud banging on the door.
Within seconds, dozens of Israeli soldiers stormed the house and asked for their son, Ramzi. After verifying his identity, they handcuffed him and took him out.
Samir ran up to the roof of the house to see his 17-year-old son being led to an Israeli military vehicle. But when the soldiers started beating Ramzi, Samir shouted at them. The soldiers responded with fire, shooting him in the chest.
"We were in shock and I quickly called an ambulance, but a number of soldiers stormed the house again. They climbed up to the roof and carried Samir down to the entrance of the house," Nidal Aslan, Samir's brother, said.
"His wife was screaming and his children were terrified and crying, but the soldiers prevented anyone from approaching him."
Samir bled out. The soldiers spoke to each other in Hebrew, saying he was dead. They then asked the family to take him to the hospital, and left with Samir's son.
"My brother lost his life that night while his son was taken under arrest for no clear reason. Ramzi did not know about his father's death until a month later because he was forbidden to see his family or even his lawyer," Nidal said.
When asked if the family had filed a complaint or a lawsuit against the Israeli soldiers, he replied: "If your adversary is the judge, to whom do you complain?"
"Ramzi did not know about his father's death until a month later because he was forbidden to see his family or his lawyer" ~Nidal Aslan, Samir's brother
Trauma
According to testimonies taken by rights organisations, night raids leave permanent scars on Palestinian families, traumatising children in particular, who, as a result, suffer from anxiety and sleep disorders and struggle at school.
Khaled Quzmar, director of Defence for Children International, said that what happens during these night raids, as well as their frequency, have repeatedly proven that they are part of a systematic policy designed to cause psychological harm to Palestinians.
Quzmar said that every year his organisation documents the testimonies of up to 150 Palestinian children on their experiences of night raids, confirming "that they are subjected to psychological and physical torture from the moment the soldiers storm their homes until they are transferred to prison".
Even witnessing their family members getting detained form mental images they can neither forget nor move on from.
"Psychological torture is much more dangerous than physical torture… because the trauma remains, especially in children, if they don't receive the necessary treatment," Quzmar said.
Amani al-Sarahneh, a spokesperson of the Palestinian Prisoner's Club, said that Israeli forces often use military dogs during house raids, noting at least two cases of dogs attacking and injuring residents so far this year.
Palestinian testimonies and numerous reports by various human rights organisations have not succeeded in curbing the violent practice of night raids by the Israeli army.
Around 800 arrests have been recorded throughout the West Bank since the beginning of the year, Sarahneh said.
Last year, around 7,000 Palestinians from the West Bank, occupied East Jerusalem and the Gaza Strip were arrested, including 882 minors, according to statistics by the Palestinian rights organisation Addameer.
There are currently 4,780 Palestinians in prison, including 160 children.
"Palestinians also suffer great material losses during house raids," Sarahneh said.
"Some people don't even [bother to] repair their broken front doors due to the frequency of the raids. We are talking about losses that may amount to $3,000 for each family."