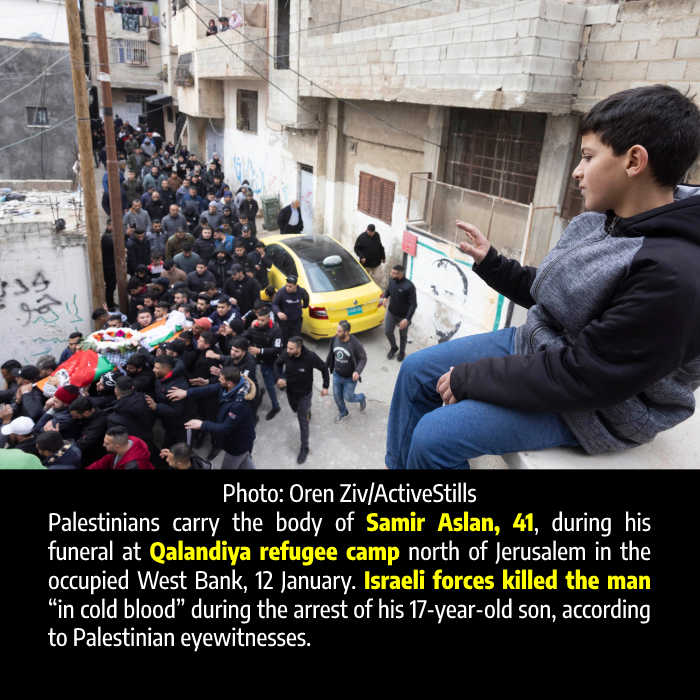 Israeli police, soldiers and settlers killed at least 35 Palestinians, including seven children, in the West Bank during January, as the violent repression in the territory that escalated throughout 2022 carried into the new year.
Those deaths include 10 Palestinians who were fatally injured during a raid in Jenin refugee camp – the single deadliest operation in the West Bank since at least 2005, according to a UN official.
Additionally, a 10-year-old boy named Nayef al-Odat died during the month from injuries sustained in an Israeli airstrike last August.
Seven people, including a Ukrainian citizen and a 14-year-old boy, were killed by a Palestinian in a shooting attack in a Jerusalem settlement during the month – the deadliest attack in an Israeli community in more than a decade.
Last year was the deadliest for Palestinians in the West Bank since at least 2005.
The uptick in fatalities followed a series of deadly attacks in Israel during March, several of them carried out by Palestinians from the Jenin area of the northern West Bank, which has seen a resurgence in armed resistance against Israel's regime of apartheid, occupation and settler colonization.
Since then, the Jenin area has endured almost daily raids, resulting in dozens of deaths.
Deadly raids
The first Palestinian fatality of 2023 was in Kafr Dan, near Jenin, on 2 January.
Muhammad Samer Hushiyeh, 22, was shot and killed during a punitive home demolition raid targeting dwellings belonging to the families of Ahmad Ayman Abed and Abdulrahman Hani Abed. The latter were killed during a shootout that led to the killing of a soldier at Jalameh checkpoint in the northern West Bank last September.
Punitive home demolitions are a form of collective punishment – a war crime under international law – and one long championed by Israel's high court.
Fuad Mahmoud Abed, 17, died in a hospital after being shot multiple times during the same demolition raid in Kafr Dan. A third Palestinian, 19-year-old Yazan al-Jaabari, died from injuries sustained during the raid on 14 January and another Palestinian died from his injuries on 25 January, according to the UN monitoring group OCHA.
The day after the lethal raid on Kafr Dan, another child, 15-year-old Adam Issam Shaker Ayyad, was shot and killed during confrontations during an Israeli raid in Dheisheh refugee camp near the West Bank city of Bethlehem.
Another boy, 16-year-old Amer Ghazi Mahmoud Zeitoun, was [shot in the head and killed by an Israeli sniper during an arrest raid in Balata refugee camp in the West Bank city of Nablus on 5 January.
Another Palestinian, 21-year-old Ahmad Abu Junaid, was shot in the head and killed during a raid in Balata camp on 11 January.
That same day, Sanad Samamreh, 19, was shot and killed by an Israeli man after allegedly stabbing and moderately injuring a settler in an outpost in the West Bank's South Hebron Hills.
Israel is advancing plans to forcibly transfer some 1,000 Palestinians in the Masafer Yatta area of the South Hebron Hills under the pretext that the land will be used for military training.
On 12 January, Israeli troops shot and killed Samir Awni Harbi Aslan, 41, after they arrested his 17-year-old son in Qalandiya refugee camp near the central West Bank city of Ramallah.
Troops failed to provide first aid and let Aslan bleed to death for more than an hour, according to the Palestinian Center for Human Rights.
That same day, Israeli forces shot and killed two Palestinians during a shootout in a daytime arrest and weapons confiscation raid on Qabatiya, a town near the northern West Bank city of Jenin. The health ministry identified them as Habib Kumail, 25, and Abdulhadi Fakhri Nazzal, 19.
Two more Palestinians – Izzedine Bassem Hamamreh, 24, and Amjad Adnan Khaliliyeh, 23 – were killed during an alleged firefight near Jaba village south of the northern West Bank city of Jenin on 14 January.
Islamic Jihad, a Palestinian armed resistance faction, claimed the two men as members.
Father killed at checkpoint
On 15 January, Israeli forces shot and killed Ahmad Kahlah, 45, in front of his teenage son during an argument at a flying checkpoint in the central West Bank on 15 January.
The Israeli military changed its version of events multiple times, first falsely claiming that Kahlah was attempting to carry out an attack when he was killed. Then it claimed that Kahlah had not followed soldiers' orders and had attempted to grab a soldier's weapon.
In a preliminary report leaked to the media, the Israeli military admitted that Kahlah's shooting death was unjustified.
The following day, Israeli forces shot 14-year-old Amer Khaled Lutfi al-Khamour in the head in Dheisheh refugee camp outside of Bethlehem. The boy was declared dead at a hospital later in the day.
On 17 January, Israeli forces shot and killed Hamdi Abu Dayyeh, 40, at a military checkpoint in Halhul, near Hebron. Abu Dayyeh, who worked for the Palestinian Authority's security forces, was allegedly attempting to carry out a shooting attack when he was killed.
Israeli forces killed two men in Jenin refugee camp on 18 January. An Israeli sniper shot Jawad Farid Bawaqta, a 57-year-old teacher, as he was attempting to come to the aid of Adham Muhammad Jabarin, a 28-year-old resistance fighter who was shot outside Bawaqta's home.
Witnesses said that Israeli forces prevented medics from approaching Bawaqta and Jabarin, who were declared dead at a hospital.
On 21 January, a Palestinian man was shot and killed by an Israeli settler at an outpost near Kafr Nima in the central West Bank "in an attempted stabbing attack as shown in video footage that was published on Israeli media," the UN monitoring group OCHA said. His body, along with that of the Palestinian killed at a settlement outpost in the South Hebron Hills earlier in the month, is being withheld by Israel.
On 25 January, Israeli forces shot and killed Muhammad Ali, 18, in Jerusalem's Shuafat neighborhood in the second deadly punitive home demolition raid of the year. The teen was holding an object that the military later determined to be a fake gun when he was shot.
Police raided the camp to demolish a home belonging to the family of Udai Tamimi, who killed an Israeli soldier and seriously injured a guard at a checkpoint near Shuafat in October last year. Tamimi was killed almost two weeks later during a gun battle near Maaleh Adumim settlement that left a guard lightly injured.
Also on 25 January, Israeli forces shot and killed Arif Abdelnasser Lahlouh, a 20-year-old from Jenin refugee camp, at a military checkpoint near the West Bank city of Qalqilya.
A 20-second clip of security footage released by Israel's public broadcaster shows Lahlouh getting out of a vehicle and running towards soldiers while appearing to hold something in his hand. The footage shows that a soldier shoots Lahlouh at close range and that no attempt was made to subdue him by less lethal means.
Jenin bloodbath
The following day, Israeli forces killed nine Palestinians during a raid in Jenin refugee camp. A 10th Palestinian died from his injuries days later.
Two children and a 61-year-old woman were among those killed in the Jenin raid. Twenty Palestinians were injured, four of them critically, according to the health ministry.
Al-Haq, a Palestinian human rights group, said that the raid began with a siege on a home in the camp. Three occupants of the building were killed by Israeli shelling.
The military also bulldozed part of a community organization in the camp and targeted electricity generators, cutting off power and internet in the area, including to the main hospital in Jenin, according to the rights group.
Palestinians in Gaza fired rockets towards Israel following the deadly Jenin raid and Israel hit sites in Gaza that it claimed were used to manufacture rockets.
That same day, Israeli forces shot and killed Yousef Yahya Muheisen, 22, in al-Ram near Jerusalem.
One day after the bloody Jenin raid, a Palestinian killed seven people in a shooting attack in Neve Yaakov, a settlement in East Jerusalem. Khayri Alqam, the 21-year-old alleged attacker from the al-Tur neighborhood, was killed by police at the scene.
Alqam was reportedly named after his grandfather who was killed by Haim Perelman, an Israeli settler, in 1998, along with three other Palestinians.
On 27 January, 17-year-old Wadea Abu Ramouz succumbed to his injuries after being shot by Israeli forces two days earlier.
Defense for Children International – Palestine stated that after he was shot, Abu Ramouz was held under armed guard in an intensive care unit. The rights group said that the boy lay on the ground for 45 minutes before receiving any medical attention.
Israel is withholding his body as part of its policy of using the remains of slain Palestinians as bargaining chips in future negotiations.
Collective punishment
Mahmoud Aleiwat, a 13-year-old relative of Wadea Abu Ramouz, allegedly shot and seriously injured an off-duty Israeli soldier and his father in the Silwan neighborhood of East Jerusalem on 28 January.
Aleiwat was shot by the off-duty soldier and another settler and was hospitalized for his injuries.
Israel plans to seal a home belonging to Aleiwat's family, as they have already done to a home belonging to the family of Alqam, ahead of its demolition.
Israeli authorities have meted out a range of other collective punishment measures in response to the Neve Yaakov attack, according to Human Rights Watch.
"They have stepped up the punishment of Palestinian property owners for 'illegal construction' in East Jerusalem, which has already led to the demolitions of properties, including homes, of Palestinians for whom building permits are nearly impossible to obtain," the rights group said.
Human Rights Watch added that "Israeli authorities have also said they plan to 'strengthen' West Bank settlements, which violate international law, and have put forward a law to revoke citizenship or permanent residency for anyone who commits 'an act of terrorism,' which passed its first reading" in Israel's parliament, the Knesset, on 31 January.
Also on 28 January, Karam Ali Salman, 18, was shot and killed by a guard near the Kedumim settlement in the northern West Bank. The teen had tried to enter the settlement armed with a pistol, the military claimed.
Kedumim, which is built on Palestinian land, includes the extreme right Israeli finance minister Bezalel Smotrich among its residents.
On 30 January, Naseem Abu Fouda, 26, was shot in the head and killed after a verbal altercation with soldiers at a checkpoint near the Ibrahimi mosque in Hebron.
Human rights groups documented an upsurge of settler violence throughout the West Bank following the deadly raid in Jenin and the shooting attack in the East Jerusalem settlement.
Agnès Callamard, secretary general of Amnesty International, said that "the international community's failure to hold Israeli authorities to account for apartheid and other crimes has given them free rein to segregate, control and oppress Palestinians on a daily basis, and helps perpetuate deadly violence."
Also during January, Israel's Netzah Yehuda battalion, which was removed from the West Bank after committing grave abuses against Palestinians, shot and killed a Syrian man who had crossed into a UN buffer zone between Syria and the Golan Heights, Syrian territory occupied by Israel.
The Israeli military determined that the slain man and another who managed to flee were likely hunters and were not attempting an attack.
Israeli media reported that an Israeli soldier was killed by "suspected accidental discharge" from another soldier's weapon at a military base near Jerusalem during January.
Last year, 14 Israeli soldiers died by suicide, six lost their lives in "work or training accidents" and three were killed in combat.
This article was corrected after publication to reflect that 35 Palestinians were killed in the West Bank during January, rather than 33, and to include an additional fatality from the 2 January Kafr Dan raid and the shooting death of a Palestinian by a settler on 21 January.