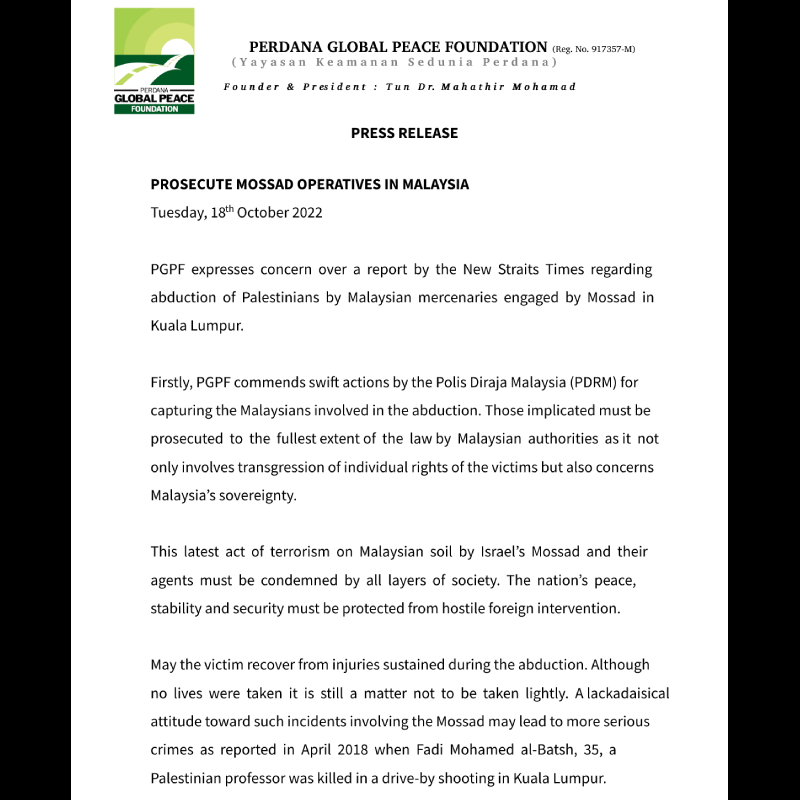 PROSECUTE MOSSAD OPERATIVES IN MALAYSIA
Tuesday, 18th October 2022 
PGPF expresses concern over a report by the New Straits Times regarding abduction of Palestinians by Malaysian mercenaries engaged by Mossad in Kuala Lumpur.
Firstly, PGPF commends swift actions by the Polis Diraja Malaysia (PDRM) for capturing the Malaysians involved in the abduction. Those implicated must be prosecuted to the fullest extent of the law by Malaysian authorities as it not only involves transgression of individual rights of the victims but also concerns Malaysia's sovereignty.
This latest act of terrorism on Malaysian soil by Israel's Mossad and their agents must be condemned by all layers of society. The nation's peace, stability and security must be protected from hostile foreign intervention.
May the victim recover from injuries sustained during the abduction. Although no lives were taken it is still a matter not to be taken lightly. A lackadaisical attitude toward such incidents involving the Mossad may lead to more serious crimes as reported in April 2018 when Fadi Mohamed al-Batsh, 35, a Palestinian professor was killed in a drive-by shooting in Kuala Lumpur.