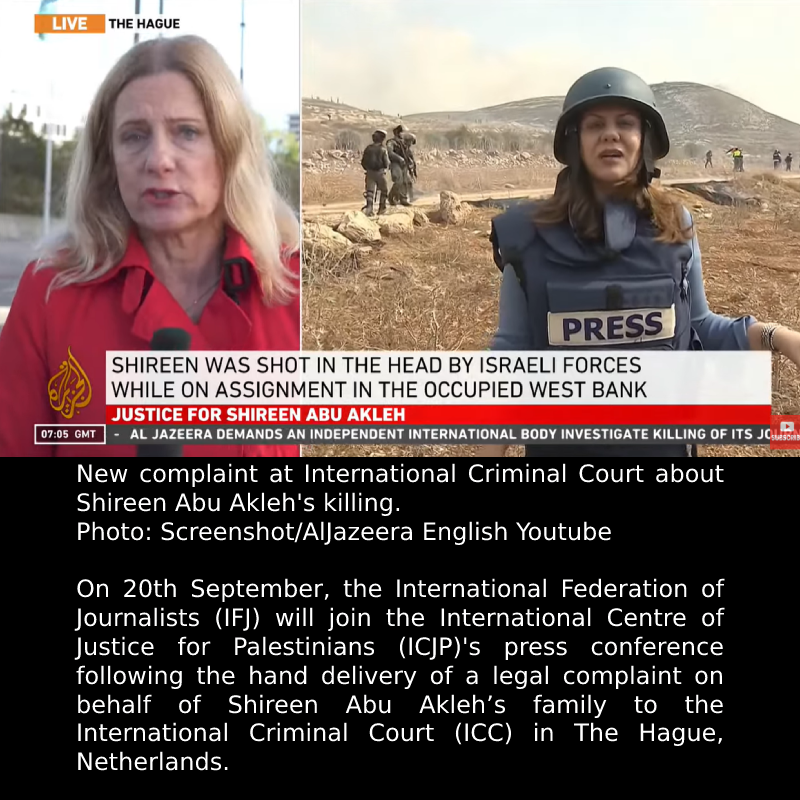 At 11am CEST/10am BST on 20 September 2022, the ICJP will be hosting a press conference in The Hague to announce the submission of a new complaint to the International Criminal Court (ICC) regarding the killing of American-Palestinian journalist Shireen Abu Akleh and the shooting of journalist Ali Samoudi on 11 May 2022 whilst covering raids conducted by the Israeli Occupying Forces (IOF) in Jenin, in the northern occupied West Bank.
The conference will bring together lawyers from Bindmans LLP and Doughty Street Chambers who are representing the victims and their families, along with representatives from the International Federation of Journalists (IFJ), the Palestinian Journalists Syndicate (PJS) and the ICJP.
The group will be joined by Anton Abu Akleh, Shireen's brother, who will speak on behalf of the family.
The Conference will also hear from representatives from Forensic Architecture and Al-Haq who will outline some of the findings from their forensic investigation into Shireen's killing.
These journalists join a long list of journalists targeted by the IOF in the Occupied Palestinian Territory (OPT). Legal submissions alleging Israel's systematic targeting of journalists working in Palestine and its failure to properly investigate killings of media workers amount to war crimes, were submitted in April 2022 to the ICC.
All journalists represented in both complaints were wearing clearly marked PRESS vests at the time they were targeted.
Press Conference details:
Date: 20 September 2022 at 11am CEST/10am BST
Venue: Leonardo Royal Hotel Den Haag Promenade, The Hague
Click HEREto register for in-person attendance and/or to receive a link to the live stream.
Contact:
ICJP
www.icjpalestine.com
claddagh@icjpalestine.com
Tel: +44 (0) 20 3488 2737

Bindmans LLP
www.Bindmans.com
press@bindmans.com

Doughty Street Chambers
www.doughtystreet.co.uk
+44 (0) 20 7404 228
New complaint at International Criminal Court about Shireen Abu Akleh's killing
New complaint being filed at the International Criminal Court about Shireen Abu Akleh's killing. Lawyers Working on Shireen's case had filed one complaint at the ICC earlier in May. Shireen was shot in the head by Israeli forces while on assignment in the occupied West Bank.