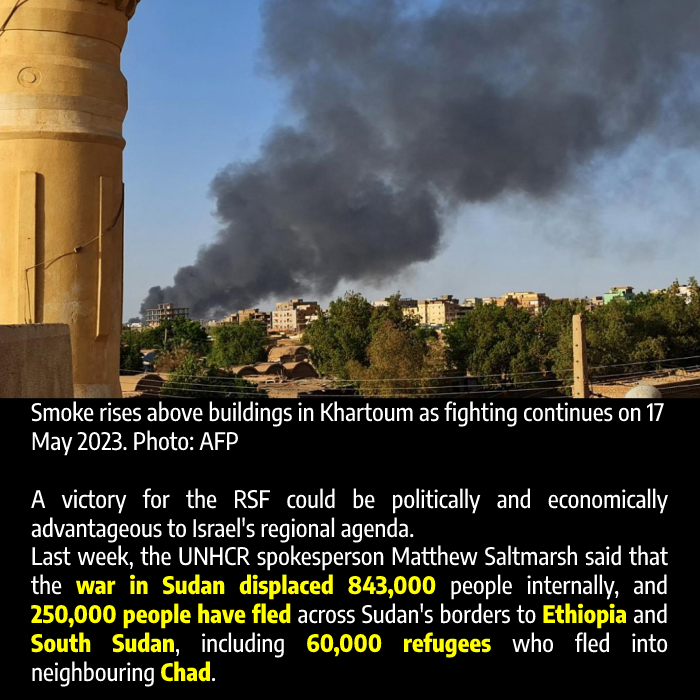 After the fall of former Sudanese President Omar al-Bashir in 2019, Israel emerged as a significant player in the North African country's transitional phase. 
Israel has a strategic interest in normalising relations with Sudan, as the Sudanese Red Sea coast is essential from a security and economic perspective. Sudan represents the heart of Africa, with deep extensions into the African continent thanks to its location, large geographical area and expansive borders.
In the 1950s, Sudan occupied a pivotal position in Israel's "periphery doctrine", which was developed as a counterbalance to an Arab region that was largely hostile towards the Israeli state. The doctrine involved forming alliances and building relationships with other Muslim nations. The support provided by Israel to rebel movements in southern Sudan before its secession was a good example of this.
Today, Washington has made openness and normalisation with Israel a standard for the strength of relations between the US and Arab states, especially during the Trump administration. This agenda, advanced by some regional countries, has pushed Sudanese actors to move towards the gateway of normalisation with Israel in order to obtain international legitimacy.
This has been evident in a number of recent developments, including the February visit by Israel's foreign minister to Khartoum, where he met Sudanese military leader Abdel Fattah al-Burhan. Former Prime Minister Abdalla Hamdok previously said that normalisation with Israel would require "deep discussion" among Sudanese society.
It appears that Mohamed Hamdan Dagalo, known as Hemeti, who leads the Rapid Support Forces (RSF), was able to offer greater concessions, especially after signing a 2019 deal with a lobbying firm founded by a former Israeli intelligence operative. 
Hemeti has held meetings with Israeli intelligence, and in May 2022, a clandestine delegation reportedly delivered advanced surveillance technology to the militia leader. The RSF has also expressed support for the normalisation process and the signing of the Abraham Accords. Such moves aim to secure American and international support, despite the rejection of this approach by the Sudanese people.
Trade and security
Israel, meanwhile, seeks to position itself strategically in Sudan to bolster its own security and expand its regional influence, especially in Africa. It aims to benefit from the long Red Sea coastline for trade, defence and security purposes, especially as a bulwark against Iran.
Israel wants to curb Iran's expanding influence in the region, while halting human and arms smuggling routes from Sudan to Gaza. Better relations with Sudan would also enhance Israel's ties with other African countries, helping it to gain access to African markets, especially after the suspension of Israel's observer status in the African Union.
In addition, intelligence-sharing on the movements of Palestinian and other resistance groups in North Africa could help Israel in its quest to undermine these organisations, mitigate anticipated threats and carry out preemptive strikes.
Israel also views normalisation through an economic lens, seeking to open the door for investments in agriculture, mining and security
Israel also views normalisation through an economic lens, seeking to open the door for investments in agriculture, mining and security, while enhancing its political and economic interests in Ethiopia and across the Horn of Africa. Israel stands to benefit from the construction of the Grand Ethiopian Renaissance Dam, which has been a point of contention among Egypt, Sudan and Ethiopia. 
Of Sudan's warring parties, the RSF aligns most closely with Israel's strategic interests and national goals. It has vowed to combat "radical Islamists" and recently removed the word "al-Quds" (Arabic for "Jerusalem") from its logo. On the other hand, Islamists hold significant influence over the Sudanese army, which runs counter to Israeli interests. Sudan's regime openly supported Palestinian resistance movements in the past. 
At the same time, the RSF's deployment in regional operations has proven effective, such as through its support to warlord Khalifa Haftar in Libya. Furthermore, the RSF's involvement in gold mining outside the state's control makes it easier for international powers to manipulate and direct the group to serve their interests and objectives.
The clashes between the RSF and the Sudanese army have spread chaos across Sudan, making it difficult to estimate the length of the path towards stability. With hundreds of thousands of people displaced, there is also a risk of increasing waves of refugee migration as the conflict drags on.
But this chaos will positively impact Israel by strategically and militarily weakening Egypt, which has had little influence over the course of events in Sudan.
Shady Ibrahim is a research associate at the Centre for Islam and Global Affairs (CIGA), Istanbul Sabahattin Zaim University. He tweets @shadyibrahim90